*****Introducing the new ICS*****

PILOT'S OPERATING HANDBOOK
AND FAA APPROVED AIRPLANE FLIGHT MANUAL
"Formerly Published and Produced by the late Douglas L. Killough"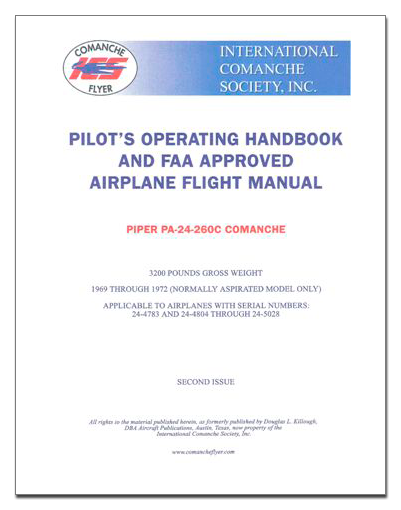 Piper Aircraft ceased production of the Comanche and Twin Comanche in 1972, several years before the General Aviation Manufactures Association (GAMA) established specifications for the contemporary Pilot's Operating Handbook (POH). As a result, the Owner's Handbook published by Piper is incomplete by modern standards. Now available EXCLUSIVELY from the INTERNATIONAL COMANCHE SOCIETY, INC., through it's licensed agents, is the upgraded Pilot's Operating Handbook and FAA approved GAMA format Airplane Flight Manual. Discounted to current ICS members at $75.00 each, plus shipping (remember to ask for ICS member discount and provide ICS membership number when placing order).
There are SIXTEEN different GAMA format manuals available for the Piper Single and Twin Comanche.
Please order your manual by "Manual Number 1-16" from the chart below.

Available only through Webco Aircraft
TO ORDER CALL WEBCO AIRCRAFT AT:
316-283-7929 or www.webcoaircraft.com

Specify "Bound" or "Unbound/Unpunched."
| Manual | Model Number | Gross Wt | Year | Serial Number |
| --- | --- | --- | --- | --- |
| Manual | Model Number | Gross Wt | Year | Serial Number |
| 1 | 180 | 2550 | 1957-64 | 24-1-3687 |
| 2 | 250 | 2800 | 1958-60 | 103-2298 |
| 3 | 50 | 2900 | 1961 | 2299-2843 |
| 4 | 250 | 2900 | 1962-64 | 2844-3687 |
| 5 | 250 (Fuel Injected) | 2900 | 1962-64 | 2844-3687 |
| 6 | 260 | 2900 | 1965 | 4000-4299 |
| 7 | 260 (Carb) | 2900 | 1965 | 4000-4299 |
| 8 | 260B | 3100 | 1966-68 | 4300-4803 |
| 9 | Not Available | Not Available | Not Available | Not Available |
| 10 | 260C | 3200 | 1969-72 | 4804-5028 |
| 11 | 260T | 3200 | 1970-72 | 4901-5028 |
| 12 | 300 | 3600 | 1964-65 | 26-3-148 |
| 13 | PA30 | 3600 | 1963-68 | 30-2-2000 |
| 14 | PA30T | 3725 | 1964-68 | 143-2000 |
| 15 | PA39 | 3600 | 1970-72 | 39-1-155 |
| 16 | PA39T | 3725 | 1970-72 | 39-1-155 |
Member Login
ICS Classifieds
For Sale: PA-30 Q-Tip Prop 710 SMOH Complete No Da...

[Read more]