URGENT MESSAGE
If you are planning to attend the 2018 ICS convention, please submit your registration as soon as possible.  If 60 people are not registered by January 1, 2018, the convention will be cancelled.  The EU tribe must make deposits for the various activities by that date.  They need 60 people in attendance to avoid a major loss.  If they do not receive the required registrations, the convention will be cancelled.
Please visit the convention page to register and learn more


Welcome to the official site of the
"International Comanche Society"
A place where you can learn and share information about the Comanche Airplane!
Benefits of Joining ICS
International Organization
Over 2000 Members Strong
Comanche Flyer, ICS Monthly Magazine
Technical Information and Publications
Technical Experts Who Can Answer Questions
Timely Information About Critical Aircraft Issues
Maintenance Forum With Thousands Of Topics
Announcements Of Upcoming Seminars and Social Events
ICS Features Two Forums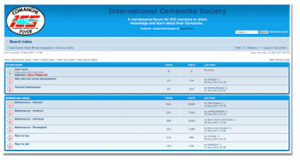 Chat Forum –
The chat forum is a place where members can connect and share their thoughts and ideas, or discuss ICS related topics and concerns.

Maintenance Forum –
The Maintenance Forum has thousands of topics related to the maintenance and repair of the Comanche aircraft. Members share their knowledge and experience in an effort to help each other.
Read The Comanche Story

Member Login
ICS Classifieds
1964 Twin Comanche PA-30 TT 3918 SMOH LE 443 RE 92...

[Read more]